Full Features
Standard Features
Easy installation. Ships fully assembled and pre-tested.
All weather. All climates. All regions.
Sump pump to remove excess water should gravity drain fail.
Rugged construction. Hot dipped galvanized. Submergible components.
Environmentally friendly. Energy efficient. No toxic hydraulic fluids.
Crash test certified ASTM M50.
Operates on 120/208-240VAC single phase or 208VAC three phase power.
2 year electrical & mechanical parts warranty STANDARD.
Safety loop sensors and LED lights on every post included.
Options
Emergency Fast Operation (EFO)
An EFO circuit can be provided to achieve operating speeds of less than 1.5 seconds.
Barrier Cooling System
An air conditioning unit and system thermostat located in the BCP allows the barrier to operate in extreme conditions.

Traffic Gate Arm
An electrically operated traffic arm signal gate can be supplied to alert vehicle drivers of the barrier position. The gate operation shall interface with the barrier at the control panel. The control panel shall control the gate based on the customer approved Sequence of Operation. The traffic arm shall correspond to the lane width and be striped with reflective tape. Red LED safety lights are optional.
Barrier Heating System
An electric heating system inside the barrier vault allows the barrier to operate in extreme conditions.Barrier design allows the barrier to rise and lower through snow build up and melt snow and ice allowing the gravity drain and/or sump pump to remove the water. A heater unit and system thermostat may also be located in the BCP.
Stop and Go Traffic Control Lights
Red/Flashing Yellow (or Green) 8" stand alone traffic control lights can be supplied to visually alert vehicle drivers of the barrier position. The flashing yellow (or green) light shall indicate that the barrier is in the fully DOWN position. All other positions shall cause the red light to illuminate. The traffic control light operating voltage is 120 VAC. A 24 VDC model is available as an option.

Battery Back-up
When commercial power is not available the battery back-up system automatically transfers power from the batteries to operate the barrier. A single battery back-up system is capable of powering two barriers, provided the barriers are located within 50 feet of each other. A fully charged and properly maintained battery back-up system should provide 400 continuous barrier cycles.

Corrosive Resistant Enclosures
NEMA 4X stainless steel, aluminum, or fiberglass enclosures available for harsh environments. Note: These are special order items with potentially longer lead times.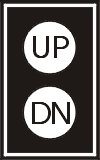 Operator's Control Panel - HMI
An operator's control panel may be supplied to control barrier operation. This panel shall have a key lockable main switch with main power "ON" and panel "ON" lights. Buttons to raise and lower each barrier shall be provided. Barrier "UP" and "DOWN" indicator lights shall be included for each barrier. An emergency fast operation circuit (EFO) shall be operated from a push button or toggle switch and have a flip safety cover installed . The EFO can be furnished with an EFO-active light and reset function. Alternatively, a touch screen panel can be selected.